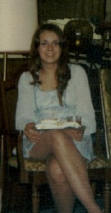 Pat Goheen
The first shower was given on May 10, 1975
by LeAnn Frankenfield, Maid of Honor who
was my roommate at Ball State University.
That shower was held in our apartment
on University Ave.
The next was given on May 28, 1975 by bridesmaid and friend since elementary
school Rhonda Apt and Mary Church my
soon to be sister-in-law at the Soltys
home on Apple Rd.
The pictures shown are from the shower
thrown on June 22, 1975 by my cousin,
Noreen Mester and Aunt Teresa Mester
at their home in South Bend.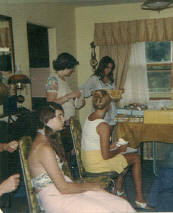 Pictured are Mary Church, Noreen Mester, Pat, and LeAnn Frankefield
Mark's bachelor party was held
at the Thornsen's house the
night before the wedding.
Tom "Casey" Thornsen (Best Man),
Randy Baumgartner (Groomsman),
and Kim Lavine (Groomsman)
were hosts.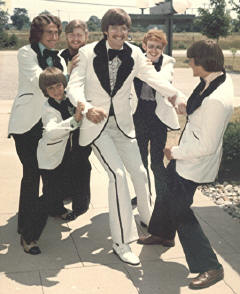 Prior to the wedding, this
picture was posed showing
Mark being pushed and
pulled into the church.
What Mark did not know
is that they had painted
"help me" on the bottom
of his shoes.

Pictured r - l are:

Randy Baumgartner, Dan Goheen II,
Kim Lavine, Mark Soltys, Tom Thornsen,
and Frank Soltys.