Planning began nearly a year ahead, Jane Soltys and JoAnn Huys took on the lion's share of the work.

The day began with family and friends gathered at Queen of Peace for a special mass celebrating 50 years of marriage and reaffirming their vows.

Next, pictures were taken at Oliver Gardens in South Bend, IN. Even though the calendar said June 1, it was quite chilly as many of the pictures will show.

The evening was a night of dinner, dancing and special remembrances. It was a very special time for all.

The picture to the right shows a number of the family members in Oliver gardens waiting for pictures to be taken.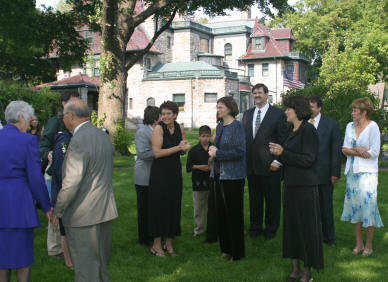 From left to right
Jeanette Soltys, Joe Soltys, Claire Soltys, JoAnn Huys,
Zachary Gulley, Mary Church, Mark Soltys, Adele Thurin,
Frank Soltys and Jane Soltys